Unless you've been living under a rock or any other similar cliché you'll have seen that the Walt Disney's classic 'The Lion King' has been re-released in 3D and is already dominating the box office in the US.
In some way this is a good thing, there is now another generation that get to enjoy this great film on the big screen (even if they have to don a pair of ridiculous 3D specs to do so). The fact that this re-release will generate some big money too is probably going to grab the attention of a lot of film studios.
So it seems that we are going to be treated/subjected to a fair share of 3D re-releases in the near future.


Already confirmed is the 80's classic 'Top Gun' which again would see a new generation turning up to the big screen to watch Maverick and Ice Man ponce around in big fighter jets. The film is currently being converted into 3D by Legend3D and is expected to be flying into cinemas at some point in the first half of 2012.
Whether people actually want to go and see this film in 3D remains to be seen. Do people really want to watch the semi homoerotic topless volleyball scene with added depth? Does it make that much difference?
Also due out in 2012 is James Cameron's 'Titanic'. The worldwide 3D re-release is set for April 6th to coincide with the 100th anniversary of the ship setting sail (which was actually April 10th but that's a Tuesday next year… bad business)
There's no doubt this re-release will do extremely well, make a whole load more cash, and maybe even break a box office record. Whether it actually benefits from a 3D conversion is a different matter. The sinking part of the film might actually look quite good with extra depth… the part before the sinking, maybe not so much.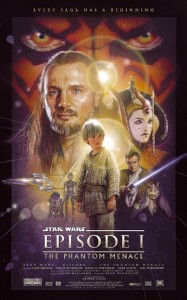 Speaking of rinsing a franchise for every last penny it's worth… and then some more, we have George Lucas' Star Wars Saga which was recently manhandled and heavily tweaked for it's Blu-ray box set release.
The re-releases will reportedly start in February 2012 with Episode I. Then the apparent plan is to release a 3D conversion each year, taking us up to 2017. Whether that will actually happen is a different matter, rumours are that if the Phantom Menace doesn't do as well as it is hoped to at the box office then they may pull the plug on the whole 3D re-release idea. The Star Wars saga is definitely something that could look very appealing in 3D though.
So unfortunately for those with poor vision/lazy eyes/actual taste it looks like we're in for a fair few more years of 3D films… 3D films that we've already seen. 3D films that we've already seen, that we own on DVD/Blu-ray, but that we'll still go the cinema to see out of curiosity.